Eden Lodge - Paris B&B

Eden Lodge is an eco-friendly Bed and Breakfast accommodation located in the 11th Arrondissement with only five luxurious rooms based around a central garden that come complete with a lounge within a wooden structure and is managed by an interior designer who is your host for your stay.
Accom Type
Bed & Breakfast
---
Average Double
€200 - €330
---
About Eden Lodge Paris

The eco-lodge took over three years to construct and utilises the latest technologies in ecological innovations, which encompasses things such as a wooden structure, LED lighting, purified air, along with solar, renewable and wood pellet energy for a zero carbon lodge.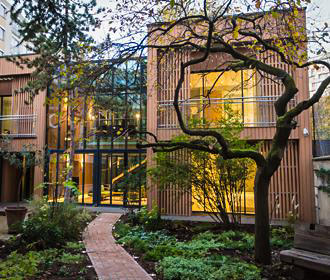 ---
Green and glamorous the Eden Lodge Paris provides an environment for relaxation and wellbeing combined with nature and luxury, with a friendly bespoke service as an unusual B&B in Paris, where your host will welcome you, provide you with a fully organic breakfast and be at your service to help you get the most out of your stay.

The original idea was to provide a holiday home with garden views, but where the kitchen would become the heart of the place, which is exactly what the designer Frederique managed, as living next door to Eden Lodge and being your host, breakfast is presented to you within the kitchen.
In fact, the kitchen is separate and by the patio, and you would normally have the organic breakfast on a large communal wooden dining table in the middle of the kitchen, although in summer tables are also set out on the patio itself. Yet the kitchen is also open all day so that you have access to a large fridge and a microwave, plus complimentary tea and coffee capsules are placed in your room each day, so you can wake up and enjoy a nice hot drink.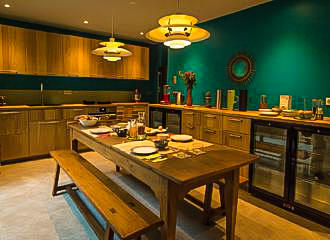 ---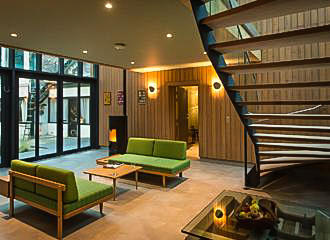 ---
With exceedingly spacious rooms and your own lounge that could even have a glass roof plus looking over the garden, along with a terrace with some of the accommodation, this is the perfect environment to spend time with family or friends, or just enjoying a quiet time in comfort.

Talking of the garden, Eden Lodge Paris has created this tranquil part of nature on a the same eco-friendly theme as the lodge itself with virtually all trees still remaining consisting of different species including pines, oak, cedar and maple.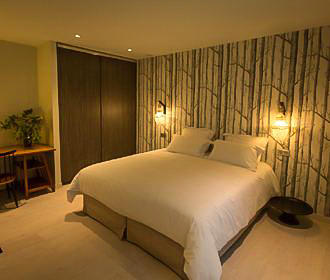 ---
So when the garden was designed, thought went into plants, etc that do not rely on too much water to thrive, their hardiness plus where they come from such as local organic suppliers and sustainable resources. In addition to this, plants and flowers were added that could provide coverage as well as lovely scents, including ivy, jasmine and clematis. There is also a shed within the garden where there are bikes stored that you are welcome to borrow upon request.


The suites at Eden Lodge Paris B&B

There are only a total of five B&B accommodations, which are all designed as suites, with each one having been designed in a completely unique style based upon different themes such as Africa and Denmark, although do not be surprised if the interiors change, as this place is constantly evolving.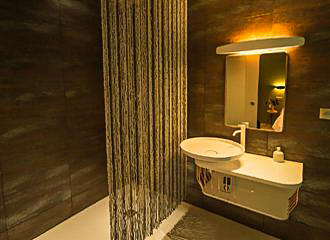 ---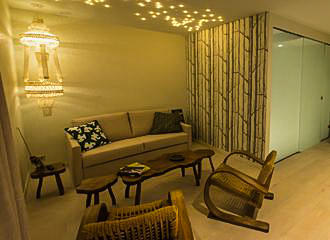 ---
All accommodation has either a low large bath or a wet room with shower along with a separate Japanese toilet, so as to avoid water wastage, plus each one is a set price throughout the year including breakfast for two people, unless you are lucky enough to find a discounted special offer.

The bedrooms all have a king size bed that can be split into two singles if required plus each separate suite comes with a desk, WiFi, smart TV with 4K UHD screen, a minibar and personal safe.

The Monceau Suite is a size of 50 metres squared, has a wet room shower and has an additional TV along with a sofa bed in the lounge with a ground floor terrace overlooking the patio, which can accommodate two adults and two children or a maximum of three adults and this is also disabled friendly.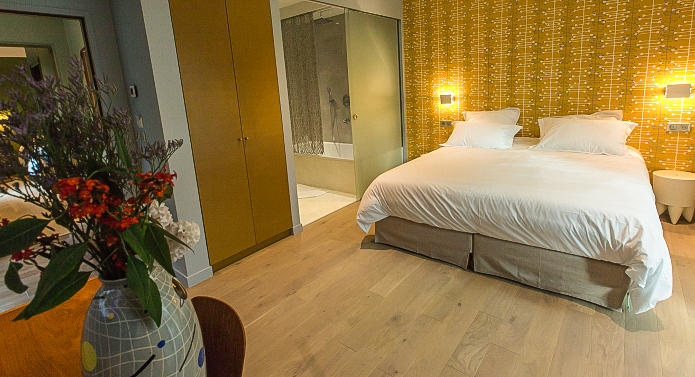 ---
The Montsouris Suite is exactly the same as above bar the fact that it has a bath instead of shower and has a first floor terrace, therefore it is not suitable for the disabled.

There are three smaller B&B accommodations of 30 metres squared at the Eden Lodge Paris that are suitable for one or two people with either a king size bed or split into two singles, again with a desk, WiFi, smart TV with 4K UHD screen, minibar and personal safe.

The Belleville Room has a bath and a first floor terrace with gardens views, the Bagatelle Room has a bath and ground floor terrace with garden views, yet Buttes-Chaumont Room has a wet room, dressing table instead of a desk and a first floor bay window with views over the floral patio.
Access to Eden Lodge Paris B&B

You will find the eco-friendly Eden Lodge Paris located in the 11th Arrondissement close to the famous Pere Lechaise Cemetery, and the nearest Metro station is the Alexandre Dumas stop serving metro line 2, alternatively, a slightly further walk in the opposite direction and you have the Charonne stop serving metro line 9.

However, the Paris bus lines 71 and 76 that stop on the nearby roads as the Eden Lodge Paris will also get you to this luxury and unusual B&B within only approximately a 2 minute walk.
Paris Hotel booking info

Eden Lodge Paris
The Luxury Parisian Ecolodge
175 Rue de Charonne
75011
Paris
Ile de France
France

Tel: 0033 1 43 56 73 24
GPS: 48.85598, 2.39185

Website: https://www.edenlodgeparis.net/