Marina de Paris River Seine cruises

The Marina de Paris has become one of the major boat tour companies on the River Seine offering lunch and dinner cruises with gourmet French cuisine, yet at an affordable price, and a vegetarian option is also available.


About Marina de Paris cruises on the River Seine

The Marina de Paris was first started back in 1999, and through its professionalism and dedicated attentive client service, plus combining the relaxed and cosy atmosphere of the glass covered boats with a gourmet dining experience, it has become one to the major boat tour operators on the River Seine.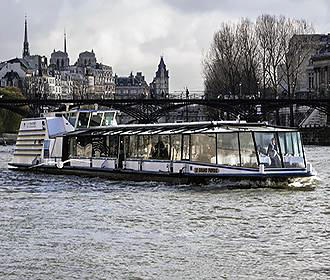 You will find that there are only four boats within the fleet that have a capacity of between 30 and 200 guests, although one of the boats is normally used for small private groups who have organised their own private cruise event, yet all can cater for receptions, parties and much more.

But with a gourmet dining experience at an affordable cost, whether it be for lunch with family or a romantic evening for two that ends with and fabulous view of the Eiffel Tower lights along with music and dancing, you can be sure to have an unforgettable River Seine cruise.


Cruise packages of the Marina de Paris

You will find that unlike many restaurants in Paris, the French cuisine on board the Marina de Paris boats has a dedicated vegetarian option, plus there are menus specifically designed for children under the age of 10 at a reduced cost.

Plus there are a wide variety of Grand Cru wines and other classic drinks along with non alcoholic options and you can opt for a wine package at a cost of €18 per person as of 2013 that includes a Kir, half bottle of white, red or rose wine and water. However, you could also go for the Gold Package at a cost of €32 with even higher quality AOC wines or these substituted for a half bottle of champagne.
Lunch cruises on the River Seine

The Marina de Paris provides lunch cruises on a Friday, Saturday and Sunday that are a cost of €39 per person, although we would like to point out that these are not available on certain dates such as Bastille Day on 14th July.

It is a three course meal with a tasting plate of four different starters, then a choice of main course available like Steamed salmon, strips of candied lemon and fresh vegetables or Supreme of young guinea fowl flavoured with rosemary accompanied by polenta fries.

There is also the vegetarian option available of the seasonal market vegetables, potato rosette and pilau rice or for an additional charge of approximately €7 you could opt for the Slab of beef flavoured with truffles, which are one of the French delicacies, and this is accompanied with potato rosette.

For the dessert, it is a cafe gourmand where you have coffee served with a selection of different desserts such as layered praline with chocolate and stewed apricots.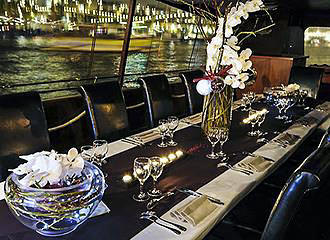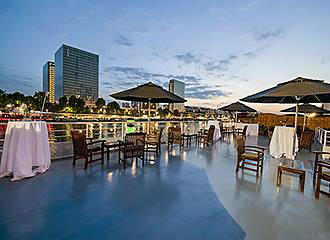 Dinner cruises on the River Seine

Known as a Dinner Decouverte, this is the early evening dinner cruise for a cost of €55 per person or €33 per child under the age of 10, and departs every night of the year at 6.45pm, except for on special days such as 14th February, 24th December, etc when only special holiday cruises are available.

For this you will again get a selection of starters, although these do seem to be more elaborate like duck foie gras, lightly cooked butterfly shrimp, etc. Then you have the choice of the main course as we mentioned above, followed by an assortment of very tempting desserts like lemon macaroon and red fruit, brownie biscuit, apricot mousse and coulis, etc. In addition to this, one drink is included.

Dinner Saveurs however, is the other dinner cruise option on the Marina de Paris with the departure being at 9.15pm and this costs from €67 as of 2013, with the option of having one of their additional packages to go along side. And your gourmet French cuisine dinner ends with live music and the ability to dance, plus see the Eiffel Tower illuminations, which really rounds off a truly memorable evening after you have also seen many of the other monuments in Paris all lit up.

You will find there is the traditional menu consisting of a starter, the choice of a main course and a desert, whereas the degustation menu is composed of a variety of tasty starters, the choice of a main course and a variety of delicious deserts, but you can you also go for a Romantic dinner option as well.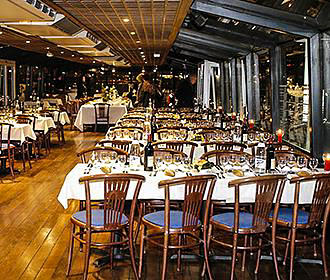 The Romantic Dinner option is a completely different price and you get preferential seating along with a souvenir photo, plus the dessert is a heart shaped chocolate cake to share between the two of you, and this option also includes champagne.


Visiting the Marina de Paris

Tickets for any of the Marina de Paris River Seine cruises can be purchased online or via telephone, yet we would also like to point out that as well as the standard costs, there are additional options available. We mentioned earlier about the wine or champagne options along with the Romantic Dinner Option, but others are also available such as an additional charge for a guaranteed window seat, or if you wish to have something special like a birthday cake presented to your table.

And the lunch cruise is a lot less formal than the dinner cruises, yet jeans, trainers, sports wear, etc are frowned upon, but of an evening smart attire is required, and especially for the late evening dinner cruise, it is requested that shirts, even jackets and ties, cocktail dresses etc, are worn.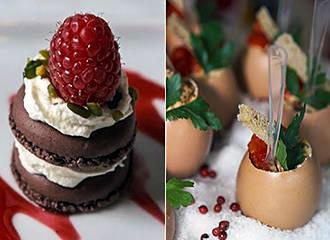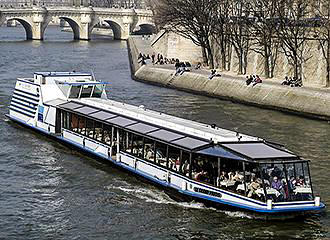 Yet located in the 7th Arrondissement, there are many different tourist attractions you can visit before you decide to enjoy an evening cruise, or, as many families and friends do, completely break up the day and have a lunch cruise before seeing sights nearby like the Tuileries Gardens and The Louvre on the opposite bank, not forgetting the Arc de Triomphe du Carrousel or the Place de la Concorde.

However, on the same right bank of the River Seine you have Les Invalides with the Tomb of Napoleon Bonaparte I, the Musee d'Orsay in the converted train station in Paris, and much more to keep all the family enthralled.

But when you are thinking of arriving is also up to you, yet you can board the Marina de Paris boats at least half an hour and sometimes far longer, before departure, which makes it a more relaxing start to the entire experience. So, we would suggest that you arrive early to make the most of your time on board these elegantly equipped glass covered boats and enjoy the whole experience of a dinner cruise on the River Seine.

Now you will find that the mooring area and boarding pier is situated on the quay at the foot of the Musee d'Orsay museum. However, we would like to point out that it is only accessible via stairs down from the Solferino pedestrian bridge at present, so it does mean that unfortunately the disabled are not able to be accommodated at this time.

And as for getting to the Marina de Paris boat tours, the nearest Metro stations are the Assemblee Nationale or the Solferino stops via line 12 or if you are travelling on the RER, then you would need line C at the Musee d'Orsay stop.

However, by Paris bus you would need numbers 24, 63, 68, 69, 73, 83, 84 or 94 and if arriving on the right bank you would need number 72, which stops at the Pont de Solferino pedestrian bridge in Paris.