The floating restaurant Le Quai on the River Seine in Paris

A restaurant located on the River Seine that has a floating terrace and fabulous views to numerous tourist attractions, this is a popular place for Sunday brunch and lunch in an idyllic setting, yet is also available for private events of an evening.


About restaurant Le Quai

The Restaurant Le Quai is a former 1920s steamboat that has been completely transformed into an elegant setting for a floating restaurant with an inside space and outside wooden decking on a terrace that provides fabulous view to numerous tourist attractions in Paris such as the Musee d'Orsay and the Tuileries Gardens on the opposite bank of the River Seine.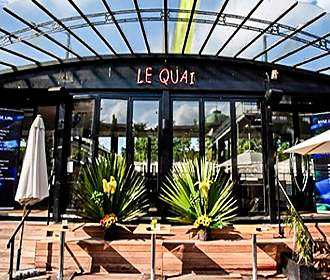 The boat itself was fully renovated in 2010 and is permanently moored on the River Seine, yet is slightly out from the actual bank, because they have designed a true floating terrace that has large sun canopies in summer along with wooden tables, teak decking and lots of greenery.

Yet the inside of the old steamboat now has an elegant and chic dining room that accommodate up to 140 people for a sit down meal, with wooden floors and dark seating contrasting with the crisp white tablecloths and white ceiling. But there are large panoramic windows that not only provide natural light, but also allow you to still enjoy the fabulous views around you.


Cuisine at Restaurant Le Quai
The restaurant Le Quai provides an a la carte menu of traditional French cuisine with starters ranging in cost from around €9 to €16, main courses of fish or meat from around €20 to €28, with desserts being €10 as of 2014.

However you could opt for a Formula menu of a starter and main course or main and dessert for €24 or a three course option for €29 as of 2014, but there are only two dishes available for each course that you can choose from. And a starter could be a Green bean salad with duck foie gras shavings followed by a fish dish of Roasted salmon and mashed potatoes or a meat dish of Roasted duck breast and honey glazed turnip for the main course.

But other items on the a la carte menu at Restaurant Le Quai include starters such as Salmon tartare with ginger, Stuffed snails or Duck Foie Gras coated gingerbread with caramelised apple.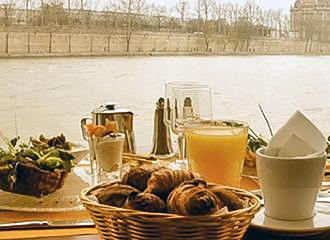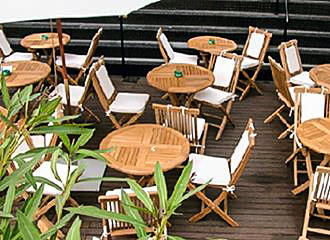 A fish main course could be Bluefin tuna with a sesame crust and basmati rice or Sea bass fillet with leeks and beurre blanc. However, a meat main course could be Charolais beef tartare with fries and mesclun, a Rack of lamb with spicy couscous or Roasted beef tenderloin with morel sauce and potato gratin. And then you have the tempting desserts like a Pinapple crumble with rum-raisin ice cream, Tiramisu, a Cheese platter or cafe gourmand.

The Sunday Brunch is served buffet style with hot drinks and fruit juice at will, and as of 2014 this is a cost of €30 for adults and €18 for children up to the age of 12, yet this must be booked and there are two services each Sunday at either 12 noon or 2pm.

So for Sunday Brunch at Restaurant Le Quai you could enjoy a wide variety of different items on a savoury side such as scrambled eggs, bacon, smoked salmon, mini sausages, wok chicken, beef with a thai sauce cold meats, scallops, rice, small fried potatoes, green vegetables, Caesar salad, etc.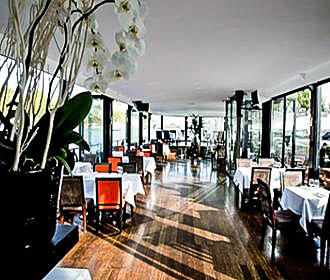 Yet there is also a sweet selection including hot croissants, pancakes with different toppings such as honey or Nutella, fruit pies, fruit salads, cereals, cheese cake, chocolate cup cakes, etc, which means there will be items to suit everyone including children.


Visiting Le Quai in Paris

This floating restaurant in Paris is located within the 7th Arrondissement on the Port de Solferino right by the Orsay Museum and is open for lunch only, as the evenings are reserved for private functions.

However, we would like to point out that reservations are highly recommended, if not virtually essential, and you must book for the Sunday Brunch, which can be for a noon sitting or for a 2pm sitting.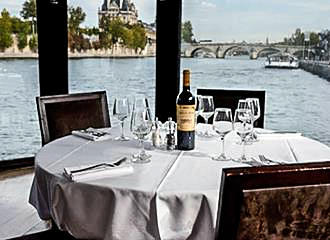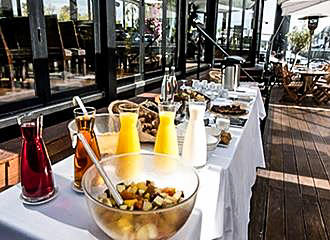 Now when it comes to getting to the Restaurant Le Quai via public transport in Paris, the nearest Metro stations are the Solferino or the Assemblee Nationale stops via line 12, and the nearest RER train station is called the Musee d'Orsay stop that serves line C.

But if you are coming from the opposite bank and walking over the Passerelle Leopold Sedar Senghor footbridge, which was originally known as the Passerelle Solferino bridge in Paris, then you would utilise the Concorde Metro station that serves lines 1, 8 and 12.