French Theory Hotel - 3 Star Unusual Hotel in Paris France

Being a one of a kind unique and unusual 3 star hotel in Paris having a coffee shop, concept store, bar, meeting come literary space plus an audio lab and music studio, you will find this hotel is disabled friendly and there are en suite rooms for 1, 2 or 4 people, with a desk, Google Chromecast, and much more for those wanting something completely different focussed around music, writing and creativity.
About French Theory Hotel in Paris

You will find the disabled friendly French Theory Hotel is located right by famous universities and Paris tourist attractions including the Luxembourg Gardens and the renowned Pantheon in the 5th Arrondissement and is classed as a 3 star hotel in Paris. It is aptly named due to the theme of the hotel, which is thought of as a place of inspiration, whether it be through literature or music being suitable for individuals, couples or friends travelling together.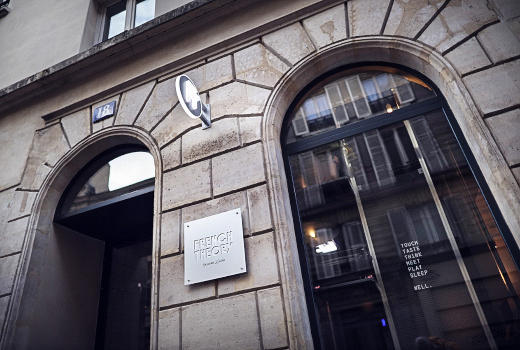 French Theory Hotel Paris facade
Services and Facilities at French Theory Hotel

Originally called the Hotel Cujas Pantheon before it closed, the building was then completely renovated and entirely designed to become the French Theory Hotel that has modern comforts such as air conditioning along with a lift, free WiFi, business services, library, an audio lab and mixing studio in the basement, plus benefiting from a cafe, bar and concept store, this is popular for creative professionals as well as audiophiles and tourists, not forgetting that this unusual hotel in Paris is disabled friendly within all common areas.


Hotel Services and Facilities

- Breakfast is available at the Coffee Shop cafe served from 8am
- Bar with various wines on offer
- Food service available upon prior booking to enjoy with friends or colleagues in the meeting room come library known as the Supper Club or Le Diner Club (minimum of 10 people for a bespoke meal)
- Restaurant in the form of the Cafe where you can enjoy being served brunch daily or just purchase freshly baked goods to eat in or take away that are available all day until closing time at 10pm
- WiFi available throughout the hotel for free
- Business facilities with the meeting room come library along with the audio lab and music studio are available for additional charges
- Concept store with its winter garden of plants and an eclectic selection of fashion, viny records, audio equipment, books and more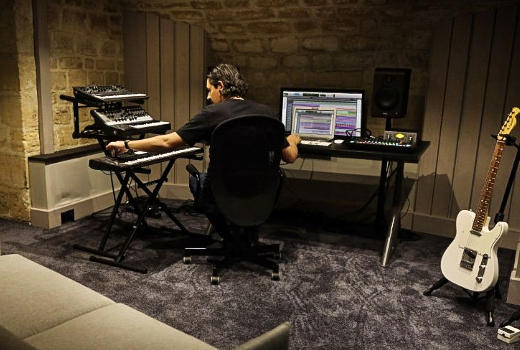 French Theory Hotel music studio room and equipment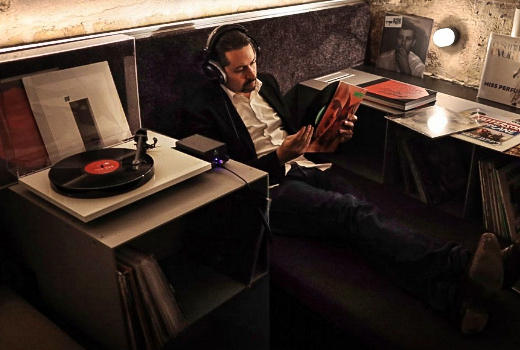 French Theory Hotel music room with record deck and headphones
Rooms at French Theory Hotel

There are various categories rooms at French Theory Hotel Paris, which are all soundproofed, have individual heating or air conditioning and a private bathroom with a shower and hairdryer. Ranging from the Zen room with hot tub and yoga space for 1 person through to the Professor room as a large double for 2 people, there are also what this unusual hotel call the Classmate Rooms that have two bunkbeds so suitable for 4 people and all come with Google Chromcast, a flat screen HD TV and Bang & Olufsen connected speakers.
Hotel Room Services and Facilities

- Private bathroom with shower or bath and hairdryer
- Desk
- Free WiFi
- Bang and Olufesen connected speakers
- Google Chromecast
- Flat screen HD TV
- Books and Magazines
- Turntable and vinyl record selection (in some rooms)
- Hot tub and Yoga space (in the Zen Rooms only)
- Projector & Screen (in the Classmate Rooms only)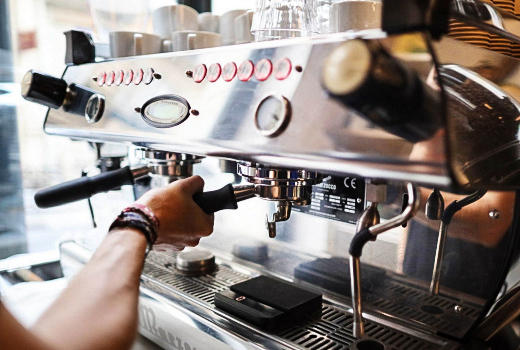 French Theory Hotel coffee shop machine and cafe
French Theory Hotel Le Diner Club table and chairs
French Theory Hotel Location

French Theory Hotel is located in what is classed as the historical Latin Quarter, which is popular with students and writers along with those on holiday as there are many tourist attractions in Paris that are within walking distance including the Thermes de Cluny Roman Baths and the River Seine, not forgetting its numerous cafes, bars and restaurants in Paris.

Additionally, being a city renowned for numerous iconic monuments in Paris, we have listed some of the most popular attractions to show the approximate walking distance from this unusual 3 star hotel, although utilising public transport could be another option.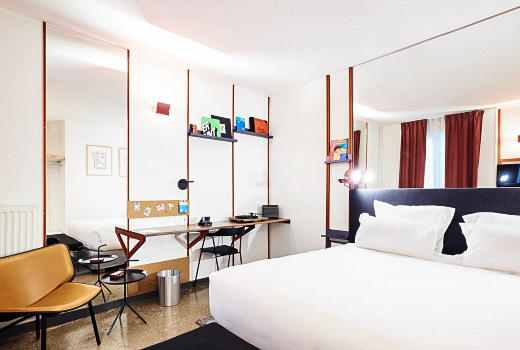 French Theory Hotel professor room double bed plus desk and seating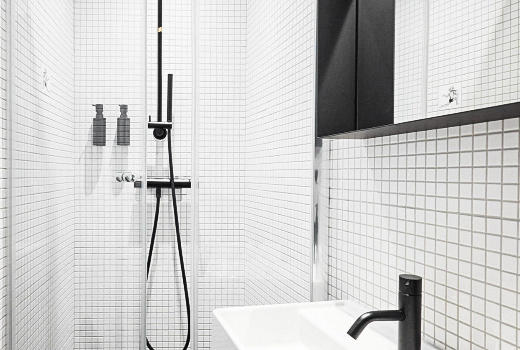 French Theory Hotel en suite bathroom with hand basin and shower cubicle
Walking distance to 5 popular attractions

- Eiffel Tower - 4.4 km
- Louvre Museum - 1.7 km
- Notre Dame Cathedral - 900 m
- Arc de Triomphe - 5.2 km
- Sacre Coeur Basilica - 5.2 km

However, we have also listed some other Paris tourist attractions located around the hotel like Luxembourg Gardens with its former royal palace and the Eglise Saint-Etienne-du-Mont plus museums such as the museum dedicated to Marie Curie that can be easily reached within under 1000 metres walking distance.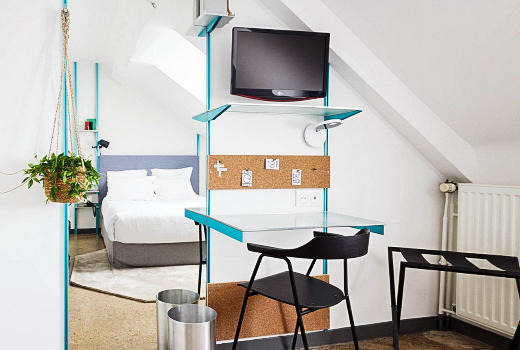 French Theory Hotel zen room with double bed, TV plus desk and chair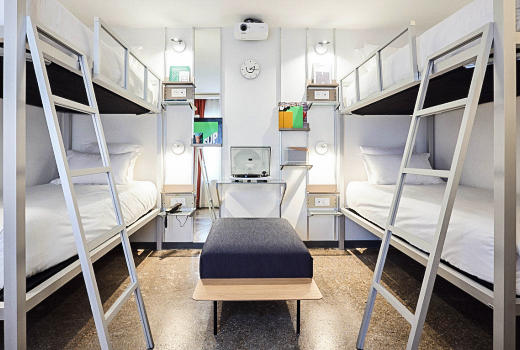 French Theory Hotel classmate quadruple room with bunk beds and seating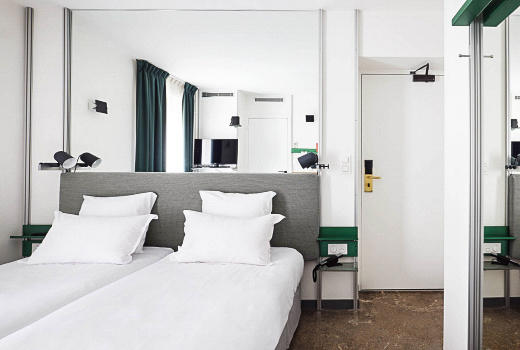 French Theory Hotel twin room beds and bed side tables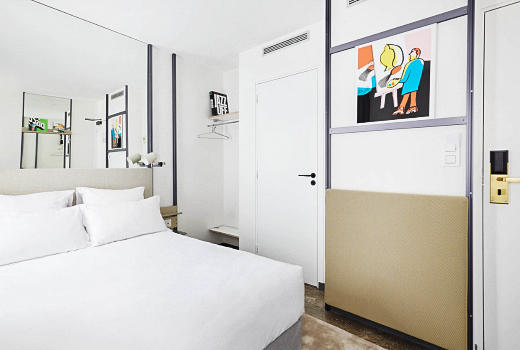 French Theory Hotel double room bed and clothes hanging space
Getting to French Theory Hotel

Situated in the 5th Arrondissement, when it comes to reaching French Theory Hotel via public transport in Paris including Metro lines and buses, there are various options within very easy walking distance such as the Paris buses around the Place Edmond-Rostand.

There is also the Luxembourg stop that serves the RER B train line for getting to Charles de Gaulle Airport or the RER B and OrlyVal for getting to Orly Airport and this will get you to the Gare du Nord Train station as well, which is a popular choice for many being that it serves TGV high speed trains and the Eurostar train that travels to London in approximately 2.5 hours.

- Gare du Nord - 4 kilometres
However, French Theory Hotel can also organise taxis if required.


Transport close by

- Cluny La Sorbonne Metro station - Metro line 10
- Bus lines 82, 84, 89
- Luxembourg RER station - RER B line
Paris Hotel booking info

French Theory Hotel
18 Rue Cujas
75005
Paris
Ile de France
France

Tel: 0033 1 43 54 58 10
GPS: 48.84804, 2.34217

Website: https://frtheory.com/