Rose Bakery Restaurants in Paris

The Rose Bakery now has different locations in Paris where you can enjoy tea and cakes, salads, quiches, soups and a brunch of a weekend, with the option to eat in or takeaway certain dishes including their pastries and salads.


A bit of history

An English lady called Rose and her French husband called Jean-Charles opened the original Rose Bakery in 2002 in the 9th Arrondissement with a view to supplying more of an English style of cakes, pastries and other delights.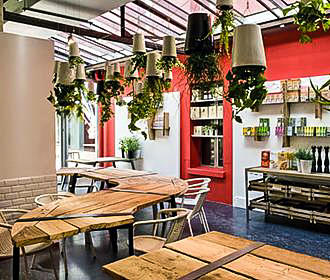 The produce is fresh from local suppliers and the majority is also organic, which at the time was a rather unusual concept in Paris, just like the cheeses that come from Neals Yard dairy in London, which is where they ran a business providing freshly baked cakes, quiches and sandwiches prior to making the move to Paris.

There were many critics that thought the Rose Bakery would not survive, especially when you consider that the couple had no formal training in the food industry, and definitely not like the credentials you get to hear about from many chefs working in numerous establishments and top table gourmet restaurants in Paris.

Yet not only did this little bakery with its small restaurant survive, a few years later, another Rose Bakery opened in the 3rd Arrondissement of Paris, although this closed and the Rose Bakery Tea Room opened within Bon Marche in its place.

However, in 2010 another restaurant that is called the Rose Bakery Culture opened, and housed within the art exhibition centre called La Maison Rouge in the 12th Arrondissement, this will be open until the end of 2018.
About the Rose Bakery in Paris

A typically English style bakery and cafe style restaurant, the Rose Bakery venues are small if you wish to enjoy lunch here and reservations are not taken, but there are numerous items including their crunchy fresh salads that you can take away.

Yet if you want to eat in or at one of the tables outside, they have become so popular that you may have to wait for a table, but it is worth the wait.

Tea or coffee with a scone are one of the popular choices of a morning, which is when they do all of their baking, and items such as a salmon and dill quiche, carrot cake, the soups, a vegetable quiche, English bread and butter, sponge cakes, etc are normally available from around midday.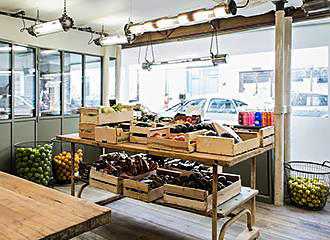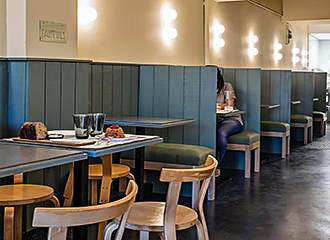 They also provide a brunch option at a weekend with traditional delights such as scrambled eggs being available, and this has also become exceedingly popular, even with the locals that want to experience a different style of cuisine.

There are a few other items on the menu at the Rose Bakery including their salads, however, these bakeries with their small minimalistic styled restaurants have become so popular that a large proportion of what they have baked that morning has ended up running out by around 3pm.

So it wise to get there early for the best selection, but do expect queues, especially during certain times of the year.

Now we mentioned that the Rose Bakery restaurants are minimalistic in their styling, yet the one located within La Maison Rouge art exhibition centre has its decor change around three times a year to co-inside with the theme of the exhibitions that are being presented.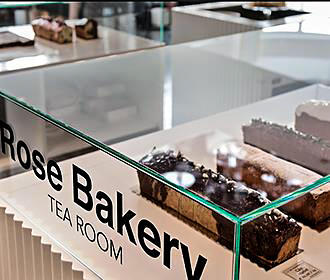 Therefore, if you want to experience something even more unique, then this is a very good option, although we would like to point out that La Maison Rouge is closing its doors at the end of 2018, which means the Rose Bakery located here will also close.


Visiting the Rose Bakery Restaurants in Paris

You will find that the Rose Bakery has different opening times depending upon what one you are visiting, and the husband and wife team can still normally be found at their original bakery and restaurant in the 9th Arrondissement.

To start with, the Rose Bakery on Rue des Martyrs, 75009 is open every day from 9:30am through to 8:30pm and it is at this location that you can also opt for a takeaway. Yet as far as we are aware, they also close in August for their annual holiday, which is the same for many family run businesses and restaurants in Paris.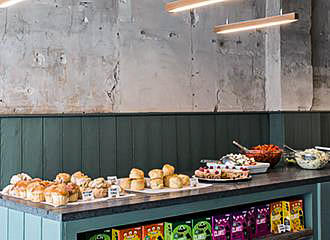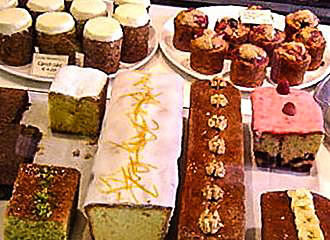 As for getting here you will find that the nearest Metro station is the Notre-Dame-de-Lorette stop via line 12 or in the opposite direction you have the Pigalle stop serving lines 2 and 12, plus there is a bus stop for the Bus Line 67 located only metres away.

The Rose Bakery located on Rue de Navarin, 75009 is actually their shop, which is also open from 9:30am through to 8:30pm and is located across the street from the original Rose Bakery we mentioned above, so public transport options are the same.

Then you have the Rose Bakery Tea Room au Bon Marche, which is located within Bon Marche on the Rue de Sevres, 75007 and this is open daily from 10am through to 6:30pm.

Access to this location is only a short walk from the Metro station called the Sevres - Babylone stop, which serves lines 10 and 12, or alternatively you have the bus lines 39, 68, 70, 87 and 94 that will also get you close by.

Last but definitely not least, you have the Rose Bakery Culture opened within the La Maison Rouge, which is located on the Boulevard de la Bastille in the 12th Arrondissement and is open at the same times as the art exhibition centre. Although we would like to point out that as mentioned earlier, this venue will be closing at the end of 2018.

Now getting to this venue is easy via public transport in Paris, and the nearest Metro station to get you close to this cultural venue and restaurant is the Quai de la Rapee stop via line 5. However, the Bastille stop by the Place de la Bastille Square is also within easy reach serving lines 1, 5 and 8.


Address and Contact Details

Rose Bakery Culture, La Maison Rouge, 10 Boulevard de la Bastille, 75012, Paris, Ile de France, France - Tel: +33 (0) 1 46 28 21 14

Rose Bakery Restaurant and Takeaway, 46 Rue des Martyrs, 75009, Paris, Ile de France, France - Tel: +33 (0) 1 42 82 12 80

Rose Bakery Shop, 1 Rue de Navarin, 75009, Paris, Ile de France, France

Rose Bakery Tea Room, au Bon Marche, 24 Rue de Sevres, 75007, Paris, Ile de France, France