Musee de l'Air et de l'Espace

The museum of air and space is the oldest aviation museum of its kind in the world that is located at Le Bourget airport in Paris, which is where the first successful transatlantic flight landed and it is also home to the impressive Paris Air Show held every other year.


What to discover at the Musee de l'Air et de l'Espace

This museum in Paris has so much to discover for anyone of any age, and not just through the impressive collections of over 150 aircraft on display including two concorde supersonic aircraft, but also rotorcraft, prototypes, scale models, documentation, military balloons and a section dedicated to space including rockets and much more.

Yet there are many different sections to discover at the Musee de l'Air et de l'Espace and many interactive presentations, which means that there are different levels of tickets you can purchase depending upon what you would like to see and do, so let us take a quick look at some of the things on offer.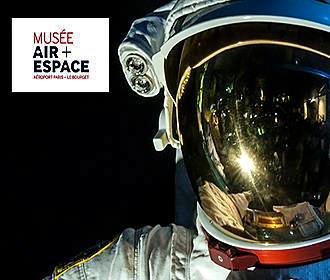 The Exhibitions

This is of course the most obvious aspect of the Musee de l'Air et de l'Espace museum, and upon entering the museum if you go towards the right, you will discover the Great Gallery that is located within the original airport terminal, and here you can discover the first flying machines and planes of World War I.

Then you go through to the next area called the Aces 14-18, which is purely dedicated to World War I and goes through different sections depicting the Great War, plus every item on display such as uniforms, weapons and aircraft are originals, not forgetting there is even an original German aircraft.

There is a gallery dedicated to models such as aeroplanes, helicopters, hot air balloons, air craft carriers and much more, with some of these dating back over 150 years and then you would enter the gallery dedicated to balloons, which is also within the old terminal building.

Going to the left of the museum entrance you can discover the conquest of space that provides a great insight into the history of space exploration from Sputnik in Voyager to V2 rockets, then you go through to the hall that contains aerobatic planes and the first civilian carriers.

The next hall is called Rotorcraft and is dedicated to helicopters that have become a major part of military and civil operations, but also on display are some very strange looking craft and the first autogyro to cross the Channel, then would continue through to the combat aircraft of the French Air Force going back over 50 years. Yet the last hall in this part of the Museum of Air and Space is dedicated to French prototypes including the Leduc 010 and the Griffon helicopter.
When you venture to a completely different building you can discover some of the most fabulous aircraft of World War II including the Dakota and Spitfire, then close to this is another building which is dedicated purely to Concorde. And here you can discover the Prototype Concorde F-WTSS along with the Concorde F-BTSD Sierra Delta, but if you want to see inside the Concorde, then you have to opt for one of the packages detailed below.

Now outside on the tarmac, there are also many different aeroplanes to discover at the Musee de l'Air et de l'Espace including a Mig fighter, a Boeing 727, a Douglas and a Boeing 747, that you can also enter on one of the package passes available. However, we would like to point out that many of these aircraft are moved for a period of time when the Paris Air Show is going to be hosted, which is in the June every two years.


Planet Pilot

The Planet Pilot is an area specifically designed for children between the ages of six and twelve where they can find out about storing luggage or fuelling a plane, what it is like to see activity from an airport tower, discover different planets in our solar system and much more.

And accompanied by the parents, there are over forty different activities that children can experience on the themes of aeronautics and space, which are both fun and educational and run for a one hour session at a time each day.


The Planetarium

The Planetarium is based around five themes, which are called Life in the universe, The secrets of the heavens, Discover new planets, Heavenly jewels and the Journey through the solar system. Each of these sessions last thirty minutes and are available at set times during weekends and holidays without any reservations.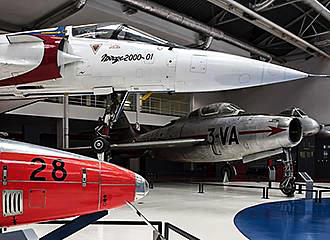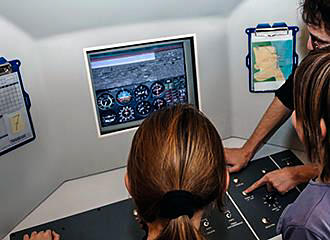 Museum Mini Tours

The Musee de l'Air de l'Espace organises tours that last 45 minutes on one of the major themes of either aeronautics or space and are an additional cost. These are available within small groups of up to fifteen people, but no reservations are necessary and held on the first weekend of each month there are three standard themes, which are called The adventure Concorde, The pioneers of aviation and The journey into space, which are conducted at set times each day. However, if you wished to actually visit Concorde after the tour, then there is also an additional charge payable in cash at the time.


Simulators

Even though the simulator is an activity suitable for children from around the age of seven, it is also open to parents and adults, and here you can discover the primary flight instruments and experience the procedures used by pilots for takeoff, landing etc and follow a flight plan. However, reservations are necessary for this activity as the number of places is limited to 14 per session, yet these last an hour with several sessions per day and are available at weekends and during school holidays.


Airport Fire Fighter Training

As you can imagine, airport fire fighters have to constantly train in order to maintain their high level of expertise in dealing with any type of incident that may arise at an airport. And the Museum of Air and Space works with the fire fighters of the Aeroports de Paris - Le Bourget for training, simulating different types of fire such as an engine fire or from baggage to landing gear, etc.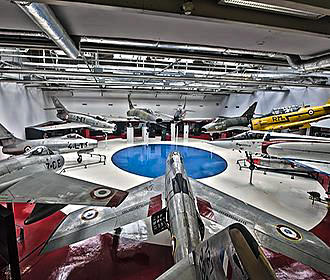 So, this is an activity you can witness, which is completely free to everyone on a Wednesday and Friday at 2.30pm by going directly to the parking lot, along the fence at the rear of the Boeing 747.

However, these may be cancelled due to unforeseen circumstances, but if running, please bear in mind that you will be a bit away from the action for safety reasons. Therefore, it may be an idea to have a pair of binoculars or a camera with a good zoom with you, in order to get the most out of this unusual, yet fascinating experience.


Forfait Avions

Known as the Forfait Avions, this particular pass will enable you to go inside the Boeing 747 including the cargo area, first class and the cockpit, then you can discover both of the Concorde supersonic planes, which were the fastest commercial aeroplanes in the world.

From there you can discover the Super Hornet rescue helicopter also known as the Super Freelon and re-live a sea rescue. Then you can also go into the Douglas C-47A Skytrain Dakota Aeroplane for a multimedia experience in this iconic World War II military plane, which is as close as you could get to feeling like a real paratrooper, which also provides you with a greater understanding of the war.


Documentation Centre

There is also a documentation centre at the Musee de l'Air de l'Espace that anyone can visit to learn more about the history of planes, technical data and much more. Now this is available to anyone as a walk in aspect on the first Saturday of each month, or via a prior appointment on a Tuesday to Thursday by booking by telephoning +33 (0) 1 49 92 70 20.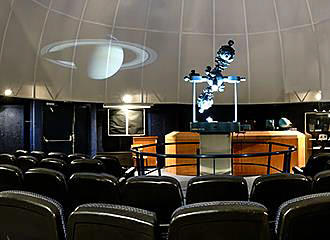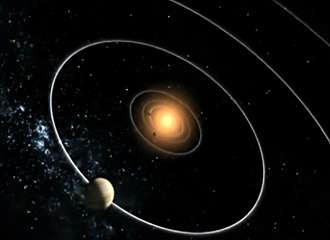 The Restaurant l'Helice

The Restaurant l'Helice translates to The Propeller and here you can discover a lounge room, bar, and a dining room laid out like you were in an airplane cabin along with a large terrace looking out to the tarmac and right beside the Boeing 747.

The restaurant is open on a Tuesday to Sunday from 10am through to 6pm although table service is only available from midday through to 2:30pm during weekdays and until 3pm at weekends, but at all other times you can purchase snacks to takeaway.

Alternatively you can have a full a la carte meal in this unusual setting with starters such as a terrine of chicken livers or onion soup for €7 as of 2018. Main dishes are an approximate cost of €16 and could include duck parmentier or salmon and steamed potatoes for instance. Then desserts such as crème brulee, tiramisu or cafe gourmand are a cost of €7 as of 2018.

There are also specials such as the plate of day, plus there are two formulas called the Menu Duo with the option of a starter and main course or a main and dessert for approximately €20 and the Menu Trio as a three course meal. A children's menu is also available for those under the age of 12 for a cost of €12 with a choice of main course, dessert and a drink.

You will find that set formula menus are also available on specific days of the year to coincide with different events, and if you wish, you can also book a table in advance by telephone on +33 (0) 1 48 35 30 49.

Visiting the Musee de l'Air et de l'Espace Museum in Paris

This museum in Paris is open on a Tuesday through to a Sunday, but is closed on a Monday and on certain national French holidays such as 25th December.

The Musee de l'Air et de l'Espace Museum opens at 10am and it closes at 5pm from the start of October through to the end of March, but from April through to the end of September it does not close until 6pm.

However, we would like to point out that an adult must accompany children under the age of 14, and children under the age of four can visit the museum completely free of charge, but like other places such as the Palais de la Decouverte, young children are not allowed into the planetarium.

Now we have already mentioned that different activities at the museum have different costs and there are passes available that incorporate one or more of these along with the permanent exhibitions, so you can choose the permanent exhibitions along with 1, 2 or 3 animations, or experiences, which range in cost from €9 per person up to €17 as of 2018.

But you can also purchase a Pass Infini, which is a one year pass that allows you to access the museum and enjoy the activities as many times as you like throughout the year, and as of 2018 this is €30 for an individual, €50 for two people and €70 for a family of up to four.

Yet do not forget about the Paris Air Show that is held at Le Bourget airport in the month of June every two years, along with the European Heritage Days that are held in the month of September, when you can get a privileged look at the restoration workshops.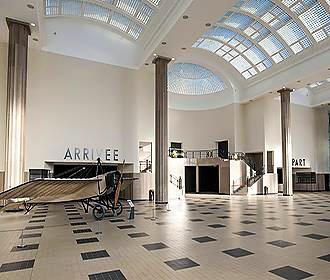 But, if you contact the tourist board of the Seine-Saint Denis you can book a guided tour of the restoration workshops at the Musee de l'Air et de l'Espace, plus learn about the maintenance of planes such as Concorde. So, as you can tell, there will be something for everyone to enjoy while you are on holiday in Paris, whether you are passionate about flying, aeroplanes or just want to know more.


Access to the Musee de l'Air et de l'Espace

Now when it comes to getting to this unique museum on the outskirts of Paris, you will find that this is located at Le Bourget Airport, which is approximately 10 minutes from Paris itself via car by taking the A1, then you would need the exit N5 heading towards the airport, which has a car park on site.

However, if travelling here via public transport, you will find that the Bus Line 350 is a direct connection from Paris to the Musee de l'Air et de l'Espace, yet if you take the Metro Line 7 and get off at the La Courneuve - 8 Mai 1945 stop, you then get a connecting bus on Line 152.

Alternatively, if you are travelling via one of the RER trains, you would need the RER B Line and get off at Le Bourget stop and then get the connecting Bus Line 152, however, the Bus Line 148 will also get you within easy walking distance of this fabulous museum in Paris.